Calcudoku
Calcudoku ("KenKen", "KENKEN", "KenDoku", "Mathdoku", "Square Wisdom") is a mathematical and logical puzzle loosely similar to sudoku. It was invented by a Japanese mathematics teacher Tetsuya Miyamoto. The objective is to fill the grid in with the digits 1 through N (where N is the number of rows or columns in the grid) such that:
Each row contains exactly one of each digit.
Each column contains exactly one of each digit.
Each bold-outlined group of cells (block) contains digits which achieve the specified result using the specified mathematical operation: addition (+), subtraction (-), multiplication (×), and division (÷).
Unlike Killer Sudoku, digits may repeat within a block.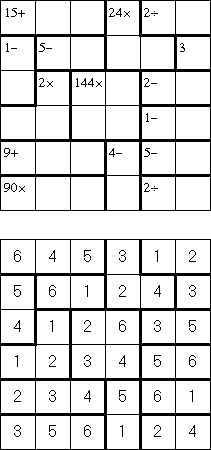 At some puzzles the signs of mathematical operations may absent (all signs or part of them). This makes the solving process more complicated.
Cross+A can solve and create puzzles from 3 x 3 to 9 x 9.