Snake Pit
Snake Pit consists of a rectangular or square grid. The goal is to to divide the grid into regions ("snakes") according to the following rules:
A snake is a one-cell-wide path at least two cells long. A snake cannot touch itself, not even diagonally.
A cell with a circle must be at one of the ends of a snake. A snake may contain one circled cell, two circled cells, or no circled cells at all.
A cell with a number must be part of a snake with a length of exactly that number of cells. A snake may contain any amount of numbered cells.
Two snakes of the same length must not be orthogonally adjacent.
A cell with a cross cannot be an end of a snake.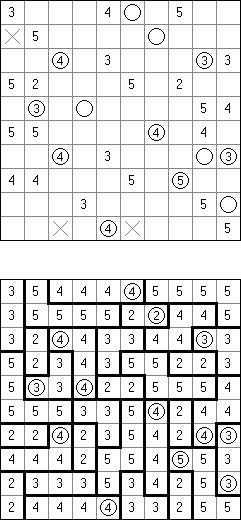 Cross+A can solve puzzles from 3 x 3 to 30 x 30.