Stitches
Stitches consists of a rectangular or square grid divided into regions. The aim is to connect each region with all neighbour regions with exactly one line ("stitch"). A length of each line is one cell (it connects two orthogonally adjacent cells from different regions). A cell may be visited at most one line. A number at the edge of the grid indicates how many line end points must be placed in the corresponding row or column.
Cross+A can solve puzzles with 2, 3 or 4 lines connecting neighbour regions.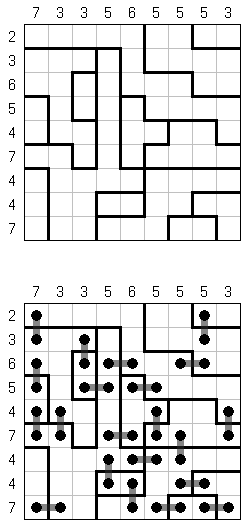 Cross+A can solve puzzles from 3 x 3 to 15 x 15.