Usowan
Usowan (from Japanese, literally "one liar") is a logic puzzle published by Nikoli. A grid is divided into rectangular and square regions. Some of the cells in the grid are numbered. The aim is to blacken some cells of a grid according to the following rules:
Cells with numbers are always white.
A number in a cell indicates how many black cells must be placed adjacent to its four sides. However, in each region there is one (and only one) wrong number (it shows a wrong amount of black cells).
Two black cells must not be orthogonally adjacent.
All of the white cells must be connected.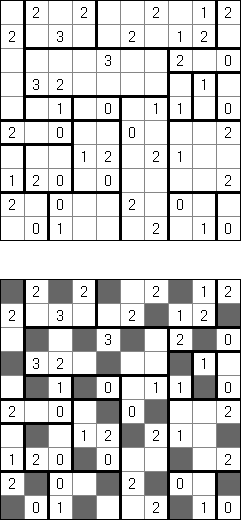 Cross+A can solve puzzles from 3 x 3 to 30 x 30.