Golem Grad
Golem Grad (an island in Lake Prespa, in the Republic of North Macedonia) combines the rules of Nurikabe and Snake puzzles. A rectangular or square grid contains circles and numbers in some cells. The aim is to blacken some cells according to the following rules:
The black cells divide the grid into areas of white cells ("islands"), each containing at most one number.
Two islands may not be connected.
The island must have the same number of white cells as the number it contains.
All black cells must form an orthogonally continuous area.
No 2 x 2 cell area within the grid can have the black color.
All black cells must be divisible into "snakes" with the heads and tails given as circles in the grid.
Snakes must not cross each other.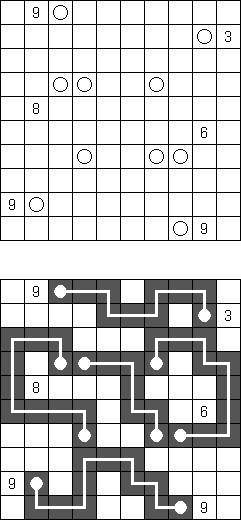 Cross+A can solve puzzles from 3 x 3 to 30 x 30.